Thermostat Replacement Services
Does it seem like your HVAC system never keeps your property at the right temperature? This can be a frustrating issue. Many homeowners and businesses may assume that it's time for a new HVAC unit when the problem might actually be a dysfunctional thermostat. Thankfully, the team at Absolute HVAC Service offers a wide selection of residential HVAC services, including thermostat repair and thermostat replacement in Oakwood, GA, and surrounding communities. If you've been searching for "thermostat replacement near me," then call our specialists and discover how a professional thermostat replacement or thermostat repair in Oakwood could potentially fix your HVAC issues.
Common Thermostat Issues
There are many different reasons why a thermostat might begin to act up. It can be challenging for property owners to determine what is causing their thermostat problems and what to do about it. Here is a list of the most common sources of trouble for homeowners:
Poor Placement - Avoid direct sunlight and exposure to the outdoors.
Unlevel Surface - This mostly affects mercury bulb thermostats.
Age - Outdated units can be more susceptible to repeated repairs and higher energy costs. It may be more affordable to get a newer model.
No Batteries or Electrical Problems - Check to see if your thermostat needs batteries or if it runs on your property's electrical system.
Mistakes Made During Installation - If the unit was installed, repaired, or replaced by someone without professional experience, it could lead to issues.
Manufacturing or Programming Defects - From time to time, there could be disruptions due to defects in the hardware or software.
Dust and Dirt - Keep your thermostat clean by adding it to your weekly or monthly cleaning routine.
If you suspect that your thermostat is suffering from one or more of the above-mentioned problems, an HVAC professional can inspect it and help you determine what your next steps will be.
Thermostat Repair in Oakwood, Georgia
In many cases, a thermostat repair can fix the issue, and your home or business can once again be a healthy and comfortable place to be. Our team will arrive at your location with all the tools and equipment needed to thoroughly inspect, diagnose and repair the problem fast, so you can have peace of mind about the future wellbeing of your HVAC system.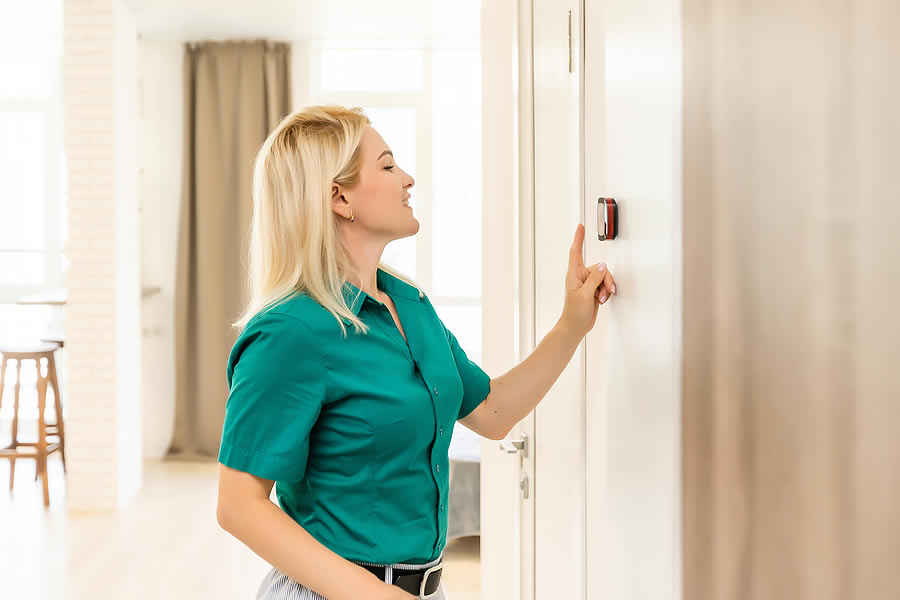 Thermostat Replacement in Oakwood, GA
In rare circumstances, a thermostat may be beyond repair. If your unit is defective, severely damaged, or very old, then a total replacement might be necessary for your HVAC system to function properly. If this is the case, our specialists will work one-on-one to ensure that you are satisfied with your new investment every step of the way.
Are You Still Searching for "Thermostat Replacement Near Me"? Give Us a Call
Is it time for you to invest in a thermostat repair or thermostat replacement in Oakwood, Georgia? Do you suspect that your HVAC issue may be more severe? Let the professionals at Absolute HVAC Service take care of your heating and cooling needs with our reliable inspections, maintenance services, and repairs. Contact our office to learn more about our offerings or to schedule a time for an upcoming thermostat replacement or thermostat repair in Oakwood, GA, or a nearby neighborhood.