AC Repair & Replacement in Gainesville, GA
Do you have hot and cold spots in your building or rooms? Is your air conditioning blowing warm air? Are there unusual smells and strange noises coming from your HVAC? These are all signs that you might need HVAC repair in Gainesville, GA. You do not need to search the web for "AC repair near me" when you need quick and affordable AC repair in Gainesville. Just call Absolute HVAC Service to speak with a representative and schedule your AC repair or even air conditioner replacement in Gainesville today. We are your local HVAC company delivering a host of HVAC repair, maintenance, and installation services.
Keep It at the Perfect Temp
It can be frustrating to set your thermostat to 75 degrees and feel like you are in the middle of the desert. Your AC unit installation is meant to condition the air for utmost comfort. If your AC is giving off inconsistent temperatures, then call Absolute HVAC Service to schedule your routine air conditioner maintenance. A quick tune-up might have you back in your comfort zone today. We recommend homeowners invest in annual tune-ups to keep the HVAC system working effectively and efficiently.
AC Repair in Gainesville, GA
Some warm air from the air conditioner might be inconvenient, but some AC problems can be a lot more serious. If your AC is giving off strange odors and making unusual sounds, then it is a good idea to have it inspected as soon as possible.
Call Absolute HVAC Service when you notice signs of trouble so that we can have a technician dispatched to your location. Our mobile technicians are assigned to you using advanced GPS and scheduling technology. Let us know where to come and we will be on our way! We are proud to have the software, hardware, and manpower to get the job done quickly and correctly the first time around.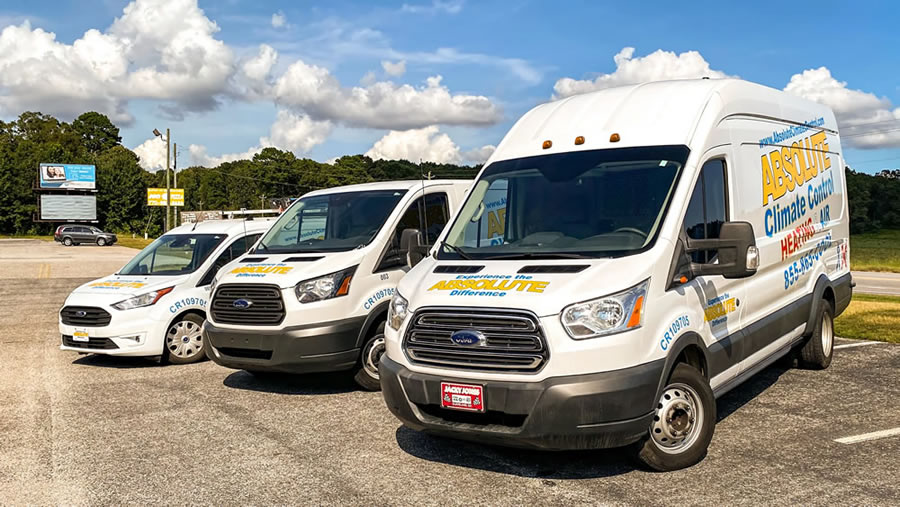 Time for a Replacement?
A quality air conditioner that has been properly installed and maintained can give you 15-20 years of service before it starts breaking down, but many people do not wait that long for their air conditioner unit replacement. Think about how much has changed in the past 10 years alone. There are so many new AC features to take advantage of. Smart technology and energy efficiency are just a couple that can save you time and money in the long run.
Whether your air conditioner is getting old or you are ready to upgrade to a new unit, the AC installers in Gainesville at Absolute HVAC Service are ready to help. Explore our website to find applicable discounts and coupons before calling in. Our friendly representatives are happy to help you choose the right air conditioner for you, your family, and your property.
Emergency HVAC Service Available
We, humans, enjoy comfort, and the HVAC system provides a lot of it! It can be disappointing to deal with a faulty AC in the middle of the night, but Absolute HVAC Service has you covered. We serve all areas of Gainesville with emergency HVAC repair services.
Heater Repair | Heating Unit Replacement | Furnace Replacement